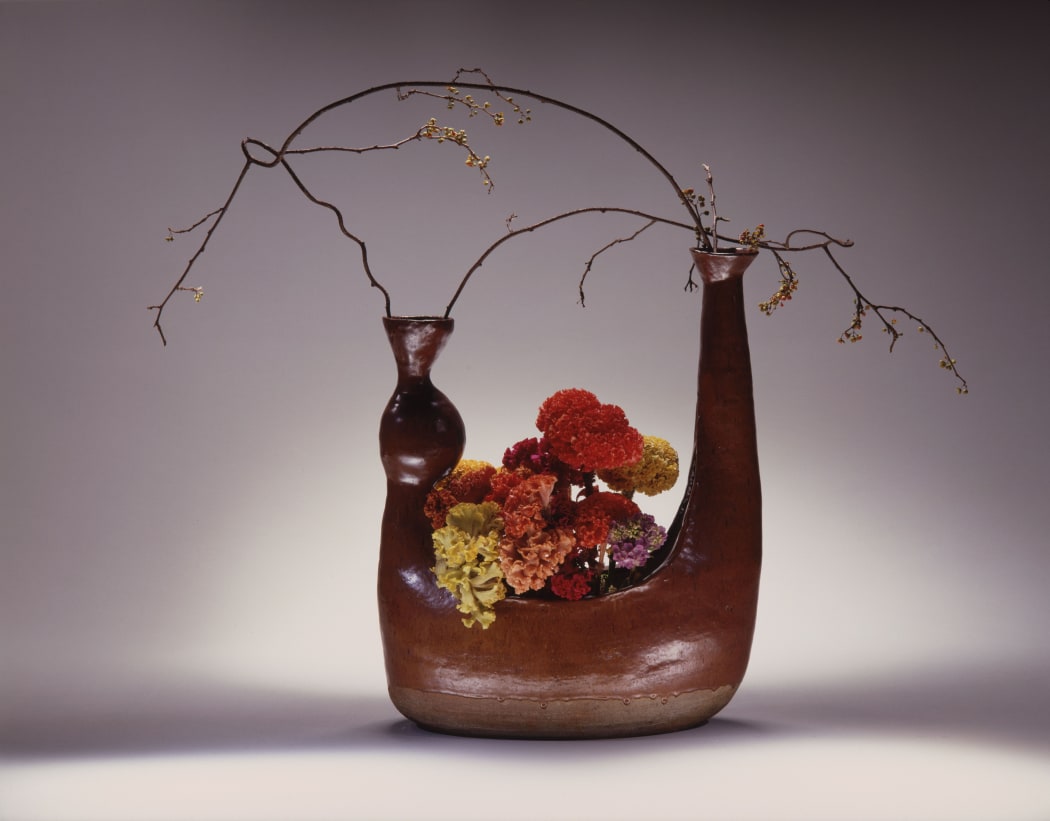 「撮影・小澤忠恭」「PHOTO OZAWA Chukyo」courtesy of Ikebana Sogetsu.
The art of floral arrangement in Japan has a modern and avant-garde history that is intertwined with development of modern ceramic visual arts. Both tea masters and flower arrangement (Ikebana) artists are the natural companions for ceramic artists in the course of their work.
On one hand, ceramic artists are deeply involved in universe of tea ceremony ceramics, devising visual languages in tea ware such as tea bowls and water jars. On the other hand, and often also as part of the tea ceremony, flower vases are also a category of object that ceramic artists encounter. Below is an excerpt from Japanese ceramic specialist Kazuko Todate, on the development of Tea ceramics & Ikebana ceramics that was an influence on several postwar schools of ceramic art including Shiko-kai, Sodeisha, and more:
"Tea masters and flower arrangement artists are the natural companions for ceramic artists in the course of their work. In the early modern period, tea masters mainly instructed the potters, and masterpieces of tea ceramics were produced. Even today, ceramic artists are still involved in tea ceremony ceramics, devising "expressions" in the limited sizes of tea bowls and water jars. Tea bowls are also much more expensive than rice bowls, so ceramic artists can easily make a living.
Flower vases are also a typical item for which ceramic artists receive orders. In the mid-twentieth century, the world of ikebana has provided ceramic artists with even greater formative inspiration than the tea ceremony. For example, the creative provocations of the flower arrangement artists, who were inspired by the avant-garde trends of Western art, were also behind the postwar efforts of the Shiko-kai artists to create ceramic objects. Among the several schools in Japan, Misho, Ohara, and Sogetsu are said to be the three major schools. Kansai ceramic artists including Kyoto such as Hayashi Yasuo are more closely associated with the Misho school, while Kanto artists including Tokyo, such as Yasuhara Kimei, tend to associate more with the Sogetsu school of flower arrangers."
At Dai Ichi Arts, we have collaborated with local floral design artists and studios to produce artistic floral designs for the avant-garde and historically important ceramic works that we carry. The vessel comes to life, actively working with the flowers they carry to produce a work of art: an object as a whole. Ceramic objecthood contains wide and varied identities, influenced by multiple forms of ephemeral art: both the tea ceremony as performance, and the Ikebana arrangement as a temporary work of art incorporate the ceramic to produce the "Objet-Vase", first conceptualized by the collaborative efforts of Teshigawara Sofu, and Yasuhara Kimei in the 1930s.
We welcome you to browse our selection of post-war, avant-garde, and contemporary ceramic "Objet-vases".