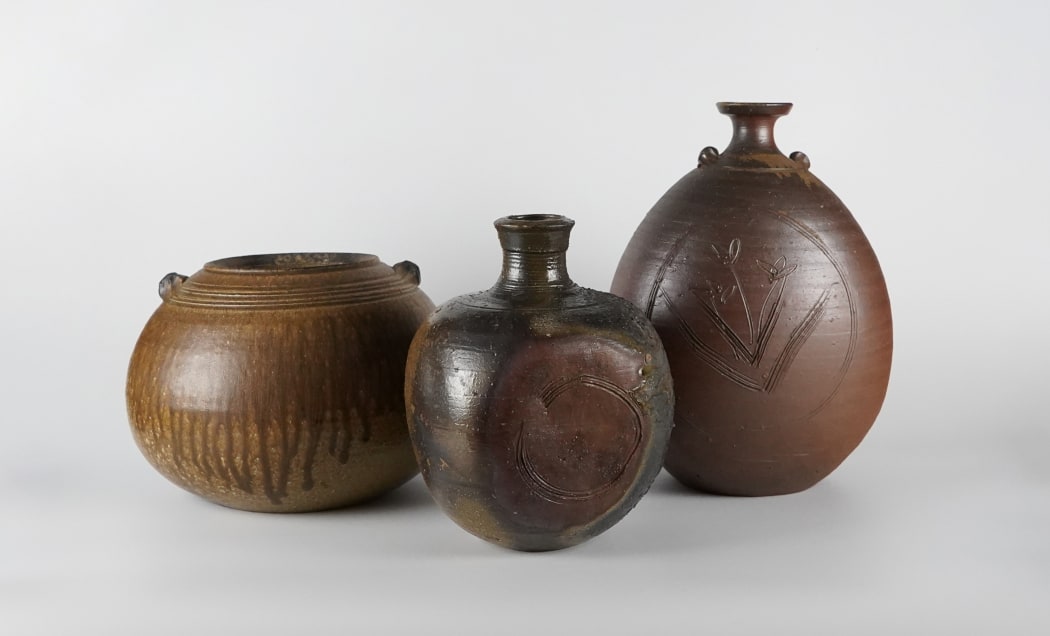 The famous Fujiwara family boasts two Living National Treasures in pottery. The first designation was Fujiwara Kei (1899-1983), Yu's father, in 1970. Fujiwara Yu followed in his father's footsteps by being designated in 1996 for his contributions to the development of Bizen ware. As is obvious from the pieces in the exhibition he was master of firing effects: the botamochi window on the tokkuri-shaped flower vase and the goma effects of the ash on the necks and bodies of the other two pieces. These effects characterized Bizen ware from the 16th century onwards and are part of a small repertoire of firing effects that the iron-containing, unglazed Bizen clay was capable of. To achieve these effects, given the long firing that Bizen ware requires, is indicative of both the skill and experience of the potter.
Fujiwara Yu's work showcases finely textured surfaces characteristic of Bizen clay. His textures are a result of skillful employment of "goma '', or natural ash glaze. Meanwhile, the clay also boasts the Fujiwara family's signature purple hue. The gradations from a dark coffee brown to purple under the light creates a distinctive opalescent quality in Fujiwara's Bizen firing. The gentle subtleties in the Fujiwara clay exemplifies the canon of traditional Bizen decorative techniques.
Contact us regarding available works.
Read more about Living National Treasures here