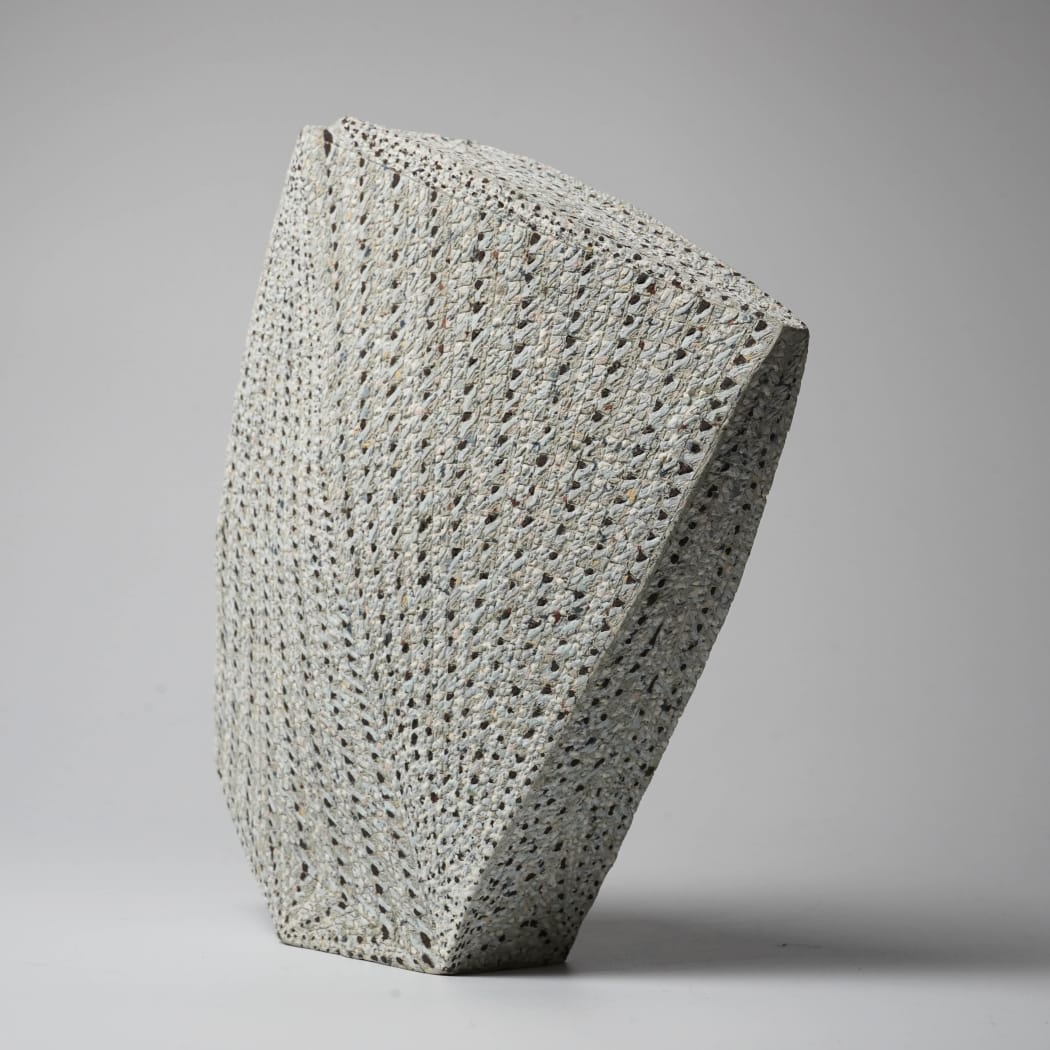 Back in 2002, the American potter Warren Mackenzie brought Kishi Eiko to our gallery in New York City after she had finished the Minnesota Workshop. I later visited her at her studio in Kyoto, and was completely blown away by her powerful and meticulous ceramic sculptures. Even though my gallery focused on functional tea wares at the time, my enthusiasm and curiosity for her work was unavoidable.
The strong angles of gorgeous work guide the eye over the piece. Its unexpected shape and balance further its visual interest, and one can't help but walk around it to see how it stands. It is abstract, a collection of planes and angles. But when examined, these planes and angles begin to resemble the elaborate costume of a Noh dancer, caught mid-movement surrounded by voluminous decorative folds of kimono. This complex and pleasing sculpture was exhibited recently at the Paramita Museum in Japan. It holds many visual surprises, rewarding close and prolonged looking.
Back in the 1980s, Kishi started to create colored chamottes in Shigaraki clay. She then inlaid these into hand-built ceramic forms of breathtakingly precise shape. Once fired, she reveals the chamottes through a careful process of hand picking and engraving a web of fine lines into the surface. One piece of chamotte is roughly 2mm, and when glazed shines like silk thread. Kishi calls this Saishiki-Zogan 「彩石象嵌」.
As this complicated technique became the signature of her sculptural voice, Kishi began to be recognized and has received many awards throughout the years, including Grand Prize at the Asahi Ceramics Exhibition in 1985, Silver Medal at the 51st International Competition for Contemporary Ceramic Art in Faenza, Italy in 1999, and the Education Ministry Prize from the Kyoto Prefectural Center for Arts & Culture in 2013. And she didn't stop there. She feels that all great art springs from deep thinking and considered ideology, and felt that her own work needed more depth. So she returned to university in her late 40s to study humanities, and after graduation began to show her ceramics internationally.
Her works have been collected widely, and can be found at Seto City Culture Center, Aichi; Tokoname City, Aichi; Shigaraki Ceramic Cultural Park, Shiga; Metropolitan Museum of Art, New York; Museum of Art and Design, New York; Philadelphia Museum of Art; Yale University Art Gallery, New Haven; Brooklyn Museum; Smith College Museum of Art; Chazen Museum of Art, University of Wisconsin; Institute of Arts, Minnesota; Museum of Fine Arts, Boston; New Orleans Museum of Art, Louisiana; Hamilton Art Gallery, Australia; International Ceramic Museum, Faenza; Kecskemet International Ceramics Studio, Hungary; Musée Cernuschi, Paris; Musée Nationale de Ceramiques, Sèvres, France; National Museum of Scotland, Edinburgh; Victoria & Albert Museum, London; Taipei County Yingee Ceramics Museum, Taiwan; and many more.
Browse our collection of available Japanese Contemporary Ceramics