Born in Saitama in 1973, Ishiyama Tetsuya considers himself a contemporary artist and a potter by profession. Influenced by waves in global international art, his interest in the "inter-matierality" of clay shines through in his work that brings metal glazes onto the stoneware surface. In other words, he is interested in how clay can be a vessel to hold and present materials other than clay. This resonates with Sodeisha precepts, in their establishment that "clay does not have to look like clay" during the 1950s. This ideology departs from the tradition of Mingei, which dominated the Japanese ceramic industry in the mid-century.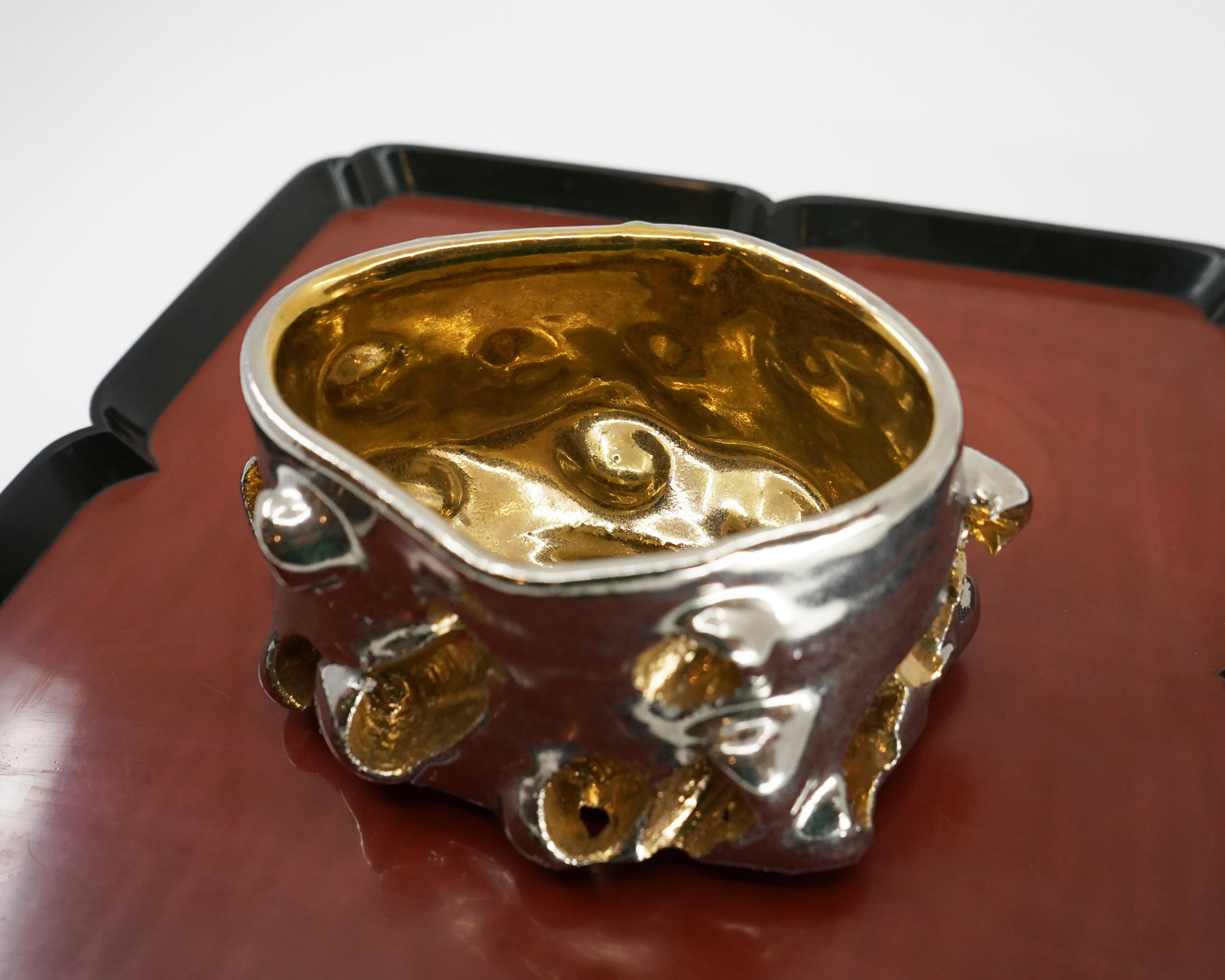 "Dimple bowl", Stoneware, H1.9" x W2.8" x D3", with signed wooden box [SOLD]
A highly contemporary approach to the traditional tea bowl form. Ishiyama Tetsuya creates a bowl with a brilliant metallic glaze, where the only decoration are the remnant pinches of his thumb, creating indentations that recall the dimples of a smiling person. This is a joyful teabowl that captures his curious, playful and experimental spirit.
Browse our selection of Japanese contemporary tea bowls here
Ishiyama Tetsuya: Artist CV
Selected Public Collections:
Mingei International Museum, USA
Uttarayan Art Foundation, India
The World Ceramic Center. Korea
Baptist University  Hong Kong
New Taipei City Yingge Ceramic Museum, Taiwan
National Tainan University Of The Art
Miho Museum
Kurokabe Museum
Takagi Bonsai Museum
Allen Memorial art museum in Oberlin, Ohio
1973 Born In Saitama Prefecture, Japan
2001 Received The 13th Tea Bowl Exhibition Grand Prize. Ceramic foundation.
2002 Studio Artist at The Shigaraki Ceramic Cultural Park
2005-2010 Work as Technical Assistant at The Shigaraki Ceramic Cultural Park
2006  Received The 44th Asahi Ceramic Art Exhibition Prize
2008 Received The 46th Asahi Ceramic art Exhibition prize
2010 Received Japan Traditional Art and claft Exhibition prize
2011 Guest Artist at The 6th World Ceramic Art Exhibition Korea Workshop
2011-2014 Artist Residence at National Tainan University of the Art
2012 Member of Japan Arts and Crafts Association
Had a Workshop in Jingdezhen, China
2013 Recieved Shiga Prefecture Cultural Prize, Encouragement Award.
2013-14 Invited to Uttarayan Art Center, India as a guest artist
2015  Invited to Baptist University, Hong Kong as a guest artist
2017 Leave from Japan Arts and Crafts Association