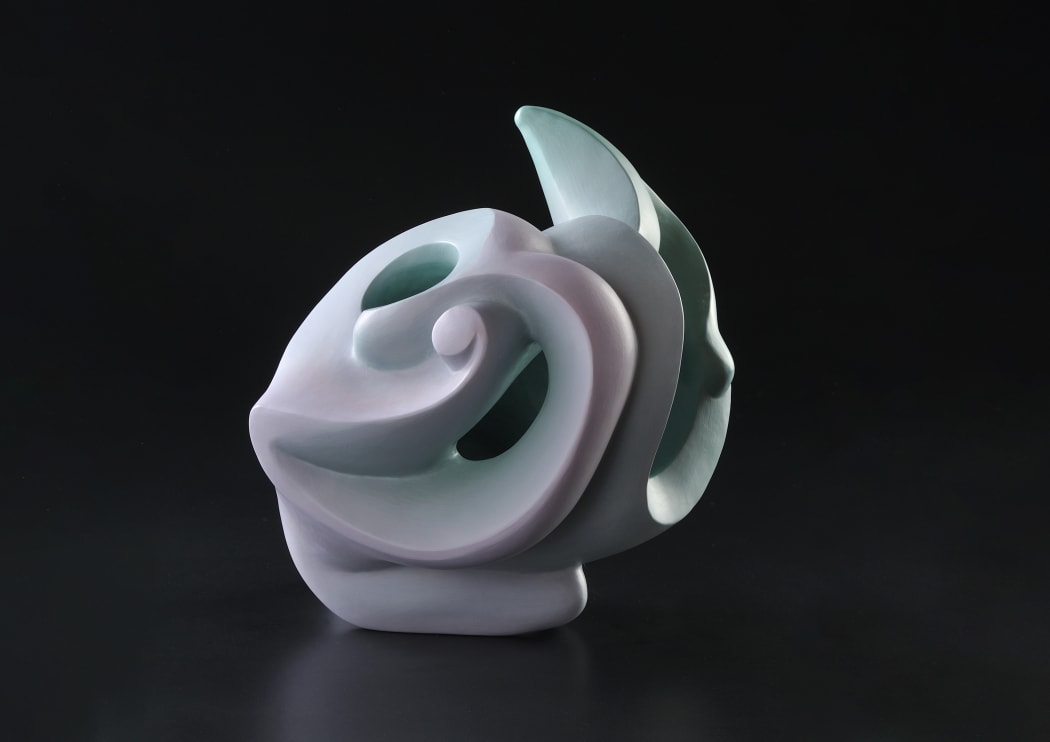 Ayumi Shigematsu (b. 1958) is part of a vanguard generation of highly influential post-war female artists in Japan whose practices are inspired by concepts of female sexuality and representations of nature. She studied with Suzuki Osamu 鈴木 治 (1926-2001) at the Kyoto University of Arts and as pioneer for women in a historically male-dominated pottery industry in Japan, she went on to work as one of few female professors teaching ceramic practice at her alma mater. Having studied with the pioneer of the Sodeisha ceramic movement, her propensity for sculptural rather than functional clay forms reflect key Sodeisha tenets. Formed in opposition to the folk-craft movement of Mingei, which was the dominant ceramic philosophy during the 20th century, Sodeisha sought to engage with questions regarding the relationship between ceramic aesthetics and their production, as well as the potter's professional identity as an individual artist or a craftsperson. They use ceramic production in the context of high art to create forms distinct from inherited antique clay traditions. While Shigematsu's sculptural forms and artistic process are informed by these core philosophies, she also draws influence from the 1970s, a period of consolidation of many art movements. For example, conceptual art that had evolved as a response to minimalist art in the West, the Mono-Ha art movement in Japan and Korea that enquired into the aesthetic relationships between materials such as stone, metal, and ceramics, and feminist art which spanned a global movement.
Shigematsu's relationship with the clay medium is exceptionally organic: her artistic process follows the tenet that the ceramic form is "found" through its making; she uses weight and gravity of wet clay to guide her hand as she builds the form without any prior planning. Her process of making brings attention to the materiality of ceramics and highlights the tactile quality of ceramic production via a meditative, sculpting process involving clay coiling, hand-pinching, and other non-wheel thrown techniques. Her glazes are also intentional and unconventional. She uses a pale, pastel color palette in her sculptures, which goes against an aesthetic convention in Japanese pottery that works of art in clay should reflect the visual properties that clay provides. In other words, she rebels against the notion that "clay should only look like clay." Shigematsu has indeed emerged as a radical artist who has established a unique and influential artistic practice.
This piece, Jomon Spiral, made in 2015, is a conceptually rich piece that consolidates her influences. In this piece, Ayumi reflects on the hand-building clay production founded during the Jomon Era (13,000 BC-500 BC). Jomon, or cord-patterned pottery, is a method of hand-building clay used by women in the Jomon Era before wheel-thrown pottery traditions were established in Japan. Through this formally dynamic piece, Shigematsu highlights the matriarchal history of earthenware production, invoking presence for female voices in a historically male-saturated Japanese pottery tradition.