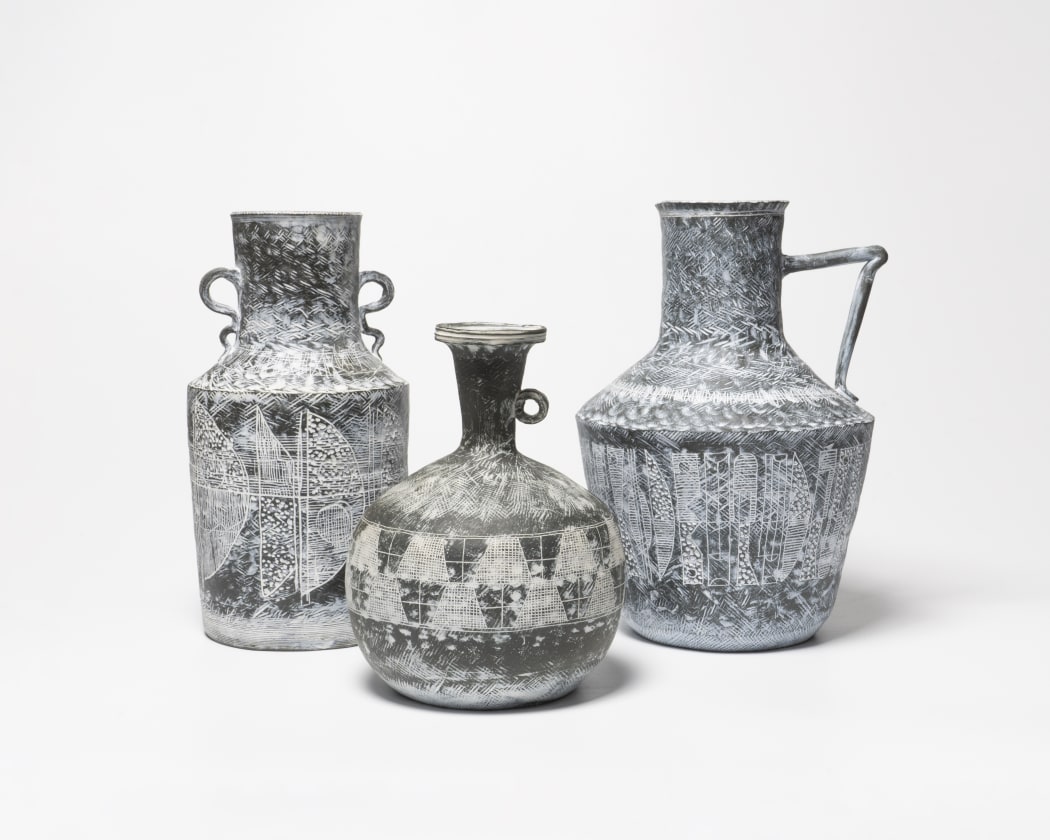 Yasuhara Yoshiaki (known in the west as Kimei), was born in Tokyo in 1906. His father was a sailor on a foreign route. In 1924, at his father's urging, he studied pottery making techniques under Miyagawa Kozan II (1842-1916) in Yokohama, and around 1927, he studied under Itaya Hazan (1872 – 1963), learning how to be an individual ceramic artist.
Abridged essay by Kazuko Todate, published on the occasion of "Object, Vessel: Yasuhara Kimei, Ikebana Sogetsu, and the Art of Japanese Ceramics" at Dai Ichi Arts
One of Yasuhara Kimei's best-known series is what he called "Sekki 炻器 (Stoneware)". Molded in grayish-blue clay mixed with pigments, the surface is carved with a unique pattern, then filled in that carved line with white clay and fired at high temperatures. The vessels look modern and solid, but at the same time, they have a dignified and stately atmosphere, as if they were excavated from some archaeological site.
Yasuhara began working on the grayish-blue sekki series around 1935, and in 1939, his "Grayish-blue Sekki Covered Box" won a special prize at the 3rd Shin-bunten 新文展 Exhibition. The "Grayish-blue Sekki" series includes many rounded concentric circle jars and arken jars, but also includes a figurative object called "Grayish-blue Sekki Object, Flower" (1938), which is one of his very early works.
In parallel with grayish-blue Sekki works, the unglazed stoneware (Yakisihime) technique began to appear around 1950. These shapes include works composed of tubular forms and a figurative vase with a sense of movement, " Unglazed Stoneware Flower Vase " (ca. 1953, collection of Sogetsu Museum of Art).
In the latter half of his career as an artist, Yasuhara focused mainly on "grayish-blue sekki," exploring the textures of clay in his own unique way, establishing his own ceramic world and gaining an important position in the ceramic art world as a juror and councilor at Nitten 日展.
In addition, Yasuhara's vases are sometimes reminiscent of "ships" or "harbors" in shape. This may be due to the fact that his father was a sailor.
Browse artworks by Yasuhara Kimei here