SOLD | KAWABATA Kentaro | Roko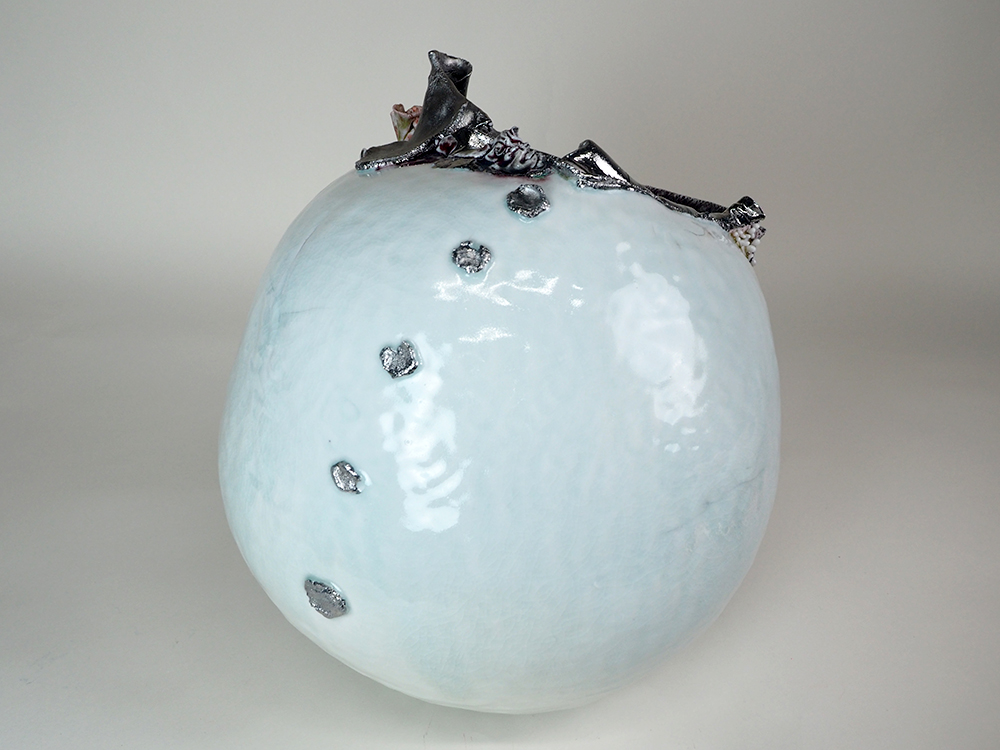 KAWABATA Kentaro 川端健太郎 (1976- )
Roko ロコ, 2017
H14.5" x Dia13", H37 x Dia33cm
Porcelain
With Signed Wood Box
The artist's imagination soars to the next level in a jar by KAWABATA Kentaro. This rotund vessel brings to mind a plump belly or rounded balloon. The mouth of this jar is filled with imaginative bits and doodles in matte gold and jewel tones, and the precious connotations of these flights of fancy recall a golden crown or an exotic crustacean. Such a unique jar calls for an exquisite tropical flower, whose bright color would perfectly offset the understated cream of the body of the jar while also complementing the sumptuous decoration.
Kawabata is a big, quiet, shy young man, who creates works that are delicate, surprising and organically sensual, bordering on erotic in some cases. His porcelain work is utterly distinctive and innovative. His technique is superb. His decorations break new ground. On a roll of porcelain sheets, he embeds glass cut-outs. When the glass melts it creates unexpected glaze patterns on the surface of the vessel and tiny translucent "windows" through the body of the vessel. Occasionally he further embellishes the surface with metallic pigments.
For a large man, Kawabata works with unexpected delicacy of touch. And there is a touch of the romantic in his exceptional glazes and decoration. He creates new directions and excitement in this most ancient of arts.
Kawabata Kentaro is born in 1976, graduated from The Institute of Ceramic Design and Technical Center, Gifu. He lives and works in Japan. His work was mentioned in the article by Roberta Smith in this past Asia New York week issue.